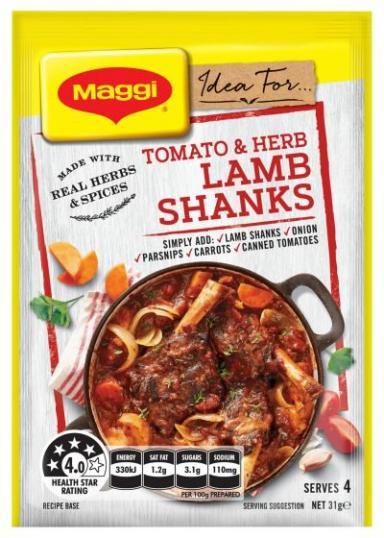 Tomato and Herb Lamb Shanks
Just Add
2 medium (240g) Carrots, Quartered
2 small (240g) Parsnips, Quartered
1 large (200g) Onion, Quartered
4 (1kg) Lamb Shanks, Trimmed
1 can (400g) Chopped Tomatoes
INGREDIENTS:
Stock Powder: Corn Starch, Yeast Extract (Yeast Extract, Salt), Sugar, Burnt Sugar Powder, Onion, Vegetable Fat (Vegetable Fat, Rosemary Extract, Sunflower Lecithin), Soy Sauce Powder (Derived from Wheat), Potato Starch, Garlic Powder, Iodised Salt;
Herbs: Rosemary, Mint, Parsley;
Vegetables: Potato Flakes (Contain Sulphite);
Spice: White Pepper.
Contains soy and sulphite.
May contain milk, fish, celery and mustard.
More Information
| | | | | | |
| --- | --- | --- | --- | --- | --- |
| | Average Quantity per Serve | Average Quantity per 100 g | % DI Per Serving ^As Prepared | Av. Qty Per Serve ^As Prepared | Average Quantity per Serve 100g |
| Energy | 160 kJ | 1510 kJ | 19% | 1680 kJ | 420 kJ |
| Protein | 1.3 g | 12.1 g | 84% | 42.2 g | 10.6 g |
| Fat-total | 1.1 g | 10.3 g | 15% | 10.7 g | 2.7 g |
| – Saturated | <1 g | 5.9 g | 18% | 4.3 g | 1.1 g |
| Carbohydrate | 5.4 g | 52.6 g | 10% | 31.3 g | 7.8 g |
| – Sugars | 2.4 g | 23.1 g | 6% | 5.0 g | 1.3 g |
| Dietary Fibre | <1 g | 2.9 g | 12% | 3.5 g | <1 g |
| Sodium | 560 mg | 5410 mg | 27% | 615 mg | 155 mg |
*Percentage Daily Intakes are based on an average adult diet of 8700kJ. Your daily intakes may be higher or lower depending on your energy needs. ^When prepared according to recipe directions
| | | |
| --- | --- | --- |
| Soy | yes | - |
| Sulphite | yes | - |
| Milk | yes | May contain |
| Fish | yes | May contain |
| Celery | yes | May contain |
| Mustard | yes | May contain |
Yes - according to the recipe with the addition
No - according to the recipe without the addition
n / a - no information
Slow Cooker
Serves: 4 | Preparation time: 15 Minutes | Cooking time: 480 Minutes
Add all vegetables to the slow cooker, top with the lamb shanks.
Combine tomatoes, 1/4 cup (60mL) water and MAGGI Tomato & Herb Lamb Shanks Recipe Mix.
Pour over tomato mixture, cover and cook on low for 8 hours.
(Cooking time may vary between slow cooker models)